Creating a Vision
by Former Tampa Mayor

Dick Greco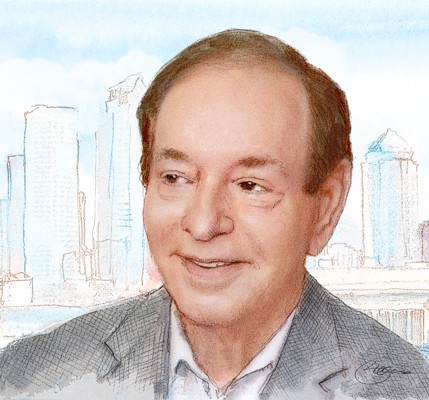 The job of being a mayor is a combination of trying to fix the urgent problems while keeping an eye on your city's lofty, long-term goals. No elected official is closer to constituents than a mayor, who can hear what people think of the job His Honor is doing every time he steps out on the street. "We want the potholes fixed." "Get drug dealers off the streets." "We want a football stadium." "We don't want a football stadium." "Can't you do something about those (expletive) parking meters?"
So, my years as mayor of Tampa made me very sensitive to what goes on in a city—any city. When I travel, I'm always assessing what cities are doing, good and bad. That's how I know Clearwater. I've been visiting Clearwater since I was a boy, and I worked with the City when I was Tampa's mayor.
Every city has its own dynamic. Tampa was the old industrial heart of Florida. It had a port, cigar factories and banks. Times changed and so did the economy and the population. I tried to get Tampa to adjust, and often it was hard work.
Clearwater has its own dynamics, and key to that has been—and always will be—the beach. I didn't have a beach in Tampa—and for a big Florida city to NOT have a beach was a real deficit. So we did things like market the Gulf beaches to Tampa's convention business: "Have your convention in Tampa, take a day to go to the beach." And we had our own attractions—the Florida Aquarium, Busch Gardens, football and hockey, and more. When the Tampa Bay area cities worked together, we tended to all prosper.
After I left office in 2003, some friends asked me to take a look at downtown Clearwater's future. These friends happened to be Scientologists, but I want to make something very clear: What people believe is their own matter. Whatever a person's faith, what counts is what they do with their talents.
I subsequently spoke at an anniversary gala for the Fort Harrison, which Scientologists have lovingly restored. After that speech, it became known that I had befriended Scientologists, and some people would come up to me and whisper, "Are you one?" That bothered me. It's that sort of divisive attitude that's at fault with so much today. My belief: We're all "one." However, I decided to find out what the "one" people asked me about meant.
I have since learned the marvelous job the Church of Scientology has done on its Tampa buildings, first in West Tampa and then Ybor City. They renovated their Ybor Square property to a level where its historic significance could be admired by the entire city.
Early in my relationship with Scientologists I found out about their adamant opposition to drugs. I know something about what drugs do to young people and communities. When I was first mayor, in the 1970s, I had two police officers assigned to fight drugs. Twenty years later, when I again was mayor, there were 52 officers on that detail. That's just one indication of how awful the drug scourge had become.
Right there, I had common ground with the Scientologists. An anti-drug program is a good thing, no matter who suggests it. And Scientologists were talking about it long before many other people.
Clearwater already has a huge 'more'—the Church of Scientology. The Church, a large, stable institutional asset, has made its solid-gold ante to building a great downtown Clearwater.
I learned more about Scientology. Heck, John Travolta's wife, Kelly Preston, even gave me an example of how the E-Meter works. I found that Scientology was a blueprint for living, and that Scientologists were very dedicated to their religion. I learned how much the Church does for charities—their own, yes, but they also support other groups. Last year, for example, I attended "Fashions With Flair" at the Fort Harrison, an event benefiting Tampa's Shriners Hospital for Children.
I have been friends with many Scientologists over a number of years, and they have always respected my personal religious beliefs.
Whenever I'm in Clearwater, I think back to an early meeting I had with Church officials. The topic was downtown development, and in that context I recalled the list of assets that every city has. For Clearwater, as I mentioned, there's the beach. Any Florida beach can do well. But if that's all it does, it's not doing enough. Clearwater Beach should be a catalyst for more—and whatever that "more" is, it will return huge dividends to hotels and business on the beach, and to the entire city.
Clearwater already has a huge "more"——the Church of Scientology. The Church, a large, stable institutional asset, has made its solid-gold ante to building a great downtown Clearwater: A study the Church just released cites $917 million in economic impact last year, including about $252 million in construction spending on its Clearwater properties since 2007.
That was a huge boon to the construction industry in the Tampa Bay area at a time when most were going slow. About 13,000 Scientologists live around Tampa Bay and another 9,000 visited just last year from around the world. Every one of them wants their Church to flourish, and for Clearwater to become a magnificent town.
Another recent report, by the Urban Land Institute, a group I know well and greatly respect, told the City: Team up with the Scientologists, create a great vision, translate that into a master plan for downtown, and make it work.
What could Clearwater become? Take a look at the Capitol Theatre's huge success in just a few months after opening. That project entailed collaboration between the City and Ruth Eckerd Hall, and the Church of Scientology played a role. The Church's next big undertaking is a convention hall and entertainment venue, L. Ron Hubbard Hall. It will seat thousands, and aside from Scientology events, it will also be open for public concerts, plays, exhibitions and more. The plans and costs aren't final, but whatever they are, this Church project will add another nine digit investment to the betterment of downtown Clearwater.
There are many routes Clearwater could take that would create great dividends for the city and its citizens. A number of Gulf Coast towns promote artists. Maybe Clearwater could take that idea and take it to a higher level: Bring the performing arts to Clearwater, create a permanent institute for teaching and nurturing those talents and for exhibiting them to the world. Creative talent would gravitate to such an exciting venture.
Or maybe it's something else. Certainly, it can be many ideas. A re-envisioned Coachman Park could transform downtown. With the Gulf and Beach always beckoning tourists and residents, more should be invested in the waterfront.
So, my suggestion—what I'd tell any city—plan first, and make the parts meet the plan. And there are two major partners—the City and the Church—that can make a plan that will carry the city to prosperity for decades to come.